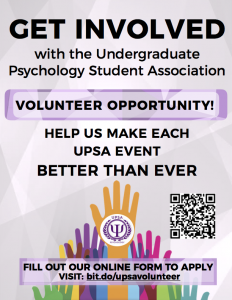 Applications for becoming a volunteer within UPSA can be found here: https://goo.gl/forms/IgZX9pS8C6Ca3Mk53
Volunteering with UPSA not only gives you an opportunity to network with like-minded individuals but it also helps you contribute to your community.
Benefits of Volunteering
A commitment of 15 hours guaranteed a reference letter from the Psychology Department at the end of the year
Professional development
Networking opportunities
Being a part of the BEST student club for Psychology Students!
Our volunteers help in a variety of ways
Helping organize/run events
Represent UPSA during tabling
Assist in postering throughout campus
Many more opportunities!